Fact Checked
Introduction 
In most cases, when a person complains of having pain in the arm or elbow, most of the times it is caused by a fall or injury to the area. In most cases, pain relievers and relaxing can help to manage this pain until it subsides. You can do several things at home to treat this pain, including: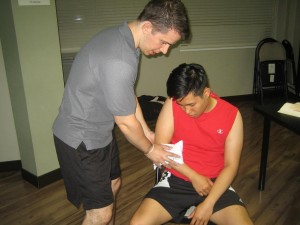 Making use of a frozen pack of peas or an ice pack wrapped in a towel and placed on the area for fifteen minutes at a time.
Utilizing over the counter pain relievers to help with the pain.
Relaxing the arm, or using cushions to support the arm in one place.
If the pain has not gone within a few days, talk to your doctor. Also, see your doctor if there is pain accompanied by swelling, puffiness or irritation.
See Your Doctor
If you believe the arm may be broken
The area becomes swollen over a few hours and you start to feel unwell
You have a fever
The pain is brought on by exercise
If your chest hurts, seek immediate medical attention
Causes of Arm Pain
The common causes of arm pain include:
A sprain
Tennis elbow
Bursitis
Nerve damage
Angina
Repetitive strain injury
A sprain in the arm means the tissues have been stretched, twisted and perhaps even torn. But, this is not permanent. A repetitive strain injury seems to occur more than once and often happens with those who work in construction or by doing a repetitive motion continuously. Angina is a heart condition that is affecting the blood supply to the heart. In many cases, when a person is exercising the blood flow is low, which leads to pain in the arm.
How Are Elbow Conditions Treated?
Treatment differs, depending on the elbow condition and symptoms you experience. Most elbow disorders need conventional treatment. Surgical procedures are also considered if you don't get better
Your treatment possibilities consist of:
Ice
Relaxation
Anti-inflammatory medications
Physical rehabilitation
Steroid inoculations
Padding of the elbow
Treatment through surgery
How To Prevent Elbow Disorders
Most elbow conditions are because of overdoing and injury. You can avoid them by:
Improving incorrect sports methods
Using the correct sized grip when it comes to sports equipment
Using the correct tightness on racquets
Stretching correctly and warming up
Padding your elbows properly
It's also essential to take breaks from monotonous jobs and practice movements that can help reinforce the muscles near your elbow. Speak to your GP for guidance and advice on how your elbow can be treated.
Related Video On Elbow Problems
Was this article helpful?