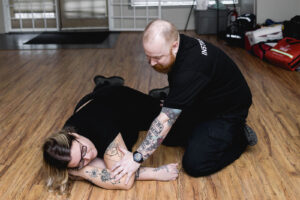 St Mark James Training also offers first aid training classes in Coquitlam, BC. Conveniently located near the TransCanada highway, next to the SkyTrain and the Lougheed highway, this first aid training class facility offers easy access by bike, transit or car. Free parking is also available on-site. A number of Worksafe BC courses are also available including basic, intermediate and advanced first aid. This training centre also offers a number of other workplace required courses including food safe, TDG, WHMIS, fall protection, confined space entry, 3M mask fit testing and hearing protection fit testing. Registration for these and any first aid training class in Coquitlam is incredibly easy and can be done using the contact information provided below or the on-line registration form.
Contact Information
The following information can be used to contact this first aid and safety training class provider in Coquitlam. This first aid training class provider proudly serves Coquitlam, Surrey, Delta, Port-Coquitlam, New Westminster, South Westminster, North Delta, Annacis Island, Burnaby, Burquitlam, Pitt Meadows, Maple Ridge and Walnut Grove.
Location Information
This provider offers available customer service from 7 am to 7 pm everyday of the week. Use the following contact information to speak to a representative from the Coquitlam training centre:
Telephone: +16042606899
Address: 927 Brunette Ave d, Coquitlam, BC
Email: [email protected]
For more information about the location, access or nearby amenities please view the map below.
Available Courses
Not only does this first aid training class provider in Coquitlam offer WorkSafe BC approved intermediate, advanced and basic first aid but it also offers all of the following workplace and academic approved courses:
Basic Life Support (BLS)
First Aid recertification's
CPR level C
CPR level A
CPR level HCP
3M mask fit testing
3M and Honeywell hearing protection fit testing
TDG
WHMIS
Fall Protection
Confined Space Entry
H2S Enform
H2S Awareness
Fire Safety
Babysitting First Aid
Emergency Childcare First Aid
Standard Childcare First Aid
Canine First Aid
Some of the listed courses are available in a blended format and some entirely online or in class. Please use the contact information listed above to find out how to register and take the course.
Post Secondary Education
Vancouver First Aid, a St Mark James Training provider proudly offers it's classes in an approved format to Trinity Western University, Simon Fraser University, Kwantlen, Langara, BCIT, UBC and Vancouver Community College,