Neck Pain Causes, Symptoms, and Managementf
Neck Pain Causes, Symptoms, and Management
While suffering from neck pain, you may feel a knot, stiffness, or severe pain in the region of the neck. This includes areas of the shoulders, upper back, or arms. You may even get a headache

Fever in Adults
Fever in Adults
Fever plays an important role in the defense against diseases and infections. The body increases in temperature to kill the invading bacteria or virus. Brain damage does not typically occur

Treatment for Mushroom Poisoning
Treatment for Mushroom Poisoning
Mushroom poisoning, also called mycetism, occurs when toxic substances present in a mushroom are eaten, typically due to mistaking poisonous mushrooms for the edible ones.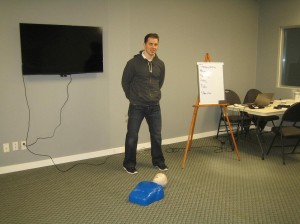 We always advise students to sign up for CPR and first aid training quite early because they have become so popular in the recent years that slots always run out. CPR and first aid training programs are the most highly requested programs in providers all over the US. With emergencies hitting you when you least expect it, being trained and prepared to give CPR and first aid is a good skill to have. It is not only the responsibility of the healthcare providers to be trained rescuers, even a layperson has to have basic knowledge in saving a life or preventing complications from an injury.
What does CPR training involve?
CPR training includes basic CPR and basic first aid skills taught to the trainees. Basic CPR skills include chest compressions, rescue breaths, and automated external defibrillation (AED). A few first aid skills are part of CPR training, such as bleeding, choking, and burn management. Chest compressions are used to try and get the heart pumping spontaneously during cardiac arrest (CA). Rescue breaths manually give the lungs oxygen so that oxygenated blood can circulate through the body.
Learning about CA is also an important lesson in CPR training. CA happens when oxygenated blood flow to the heart is cut off and the cardiac muscle loses function. This can happen because of a stroke or a heart attack. If the heart does not pump blood to the rest of the body, it can cause organ dysfunction and eventual failure. Cerebral tissue also starts to die if the brain goes for 7 minutes without oxygen.
What kind of programs are there?
There are a total of five training programs at our providers, with three with accompanying re-certification programs. Three of the five programs are Basic Life Support while two are Advanced Life Support classes.
Basic Life Support classes cover basic CPR skills and first aid. The programs are very short, usually only four hours long. They focus more on skill building over a single session completed in one day.
Basic CPR/AED – 4 hours, general public; one-person CPR, first aid, and AED
Basic CPR/AED (C) – 4.5 hours, healthcare providers; one-person CPR, first aid, and AED
Basic Life Support for HCPs – 4.5 hours; one and two-person CPR, first aid, and AED, 2010 BLS guidelines from the AHA
Advanced Life Support classes cover medical support given to a person who has experienced cardiac arrest. Medical support includes the use of equipment, diagnostics, and medication. Giving ALS to adults is also different from giving it to pediatric victims so there are two kinds of ALS training available.
Advanced Cardiac Life Support (ACLS) – 16 hours, HCPs; medical management of adults
Pediatric Advanced Life Support (PALS) – 14 hours, HCPs; pediatric medical management
How long will I have to wait to renew certification?
Certificates are awarded to students upon completion of the program. They remain valid for two years before they have to be renewed. Expired certification does not qualify for renewal. Re-certification is available for the following classes:
Basic Life Support – 4 hours
Advanced Cardiac Life Support – 5 to 6 hours
Pediatric Advanced Life Support – 6 to 8 hours