Standard First Aid is one of the most popular and comprehensive first aid courses offered by St Mark James. This course includes CPR level "C" which involves CPR rescues on adult, child and infant victims. Standard first aid also includes training in the use of an automated external defibrillator. This  course encompasses all of the first aid taught in emergency first aid, however, it involves and additional amount of training in first aid scenarios. This course is a 16 hour course which is typically completed within two days. Some locations offer an option to complete the course in 4 days. Register for a standard St Mark James first aid class in Saskatoon. Our Canadian St Mark James training providers are located in Surrey, Kelowna, Regina, Saskatoon, Vancouver, Edmonton, Ottawa, Calgary and Winnipeg. Visit our locations page for more information.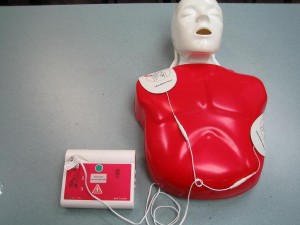 Standard first aid course content includes:
CPR level "C" or CPR level HCP (Candidates can opt for CPR HCP training at some locations)
St Mark James
Check, Call and Care system.
Principles of first aid
Legal implications of first aid
Self protection
Activating EMS
Scene assessment
Management of Bystanders
AED training.
Respiratory emergencies including asthma, hyperventilation, anaphylaxis and aspiration.
Shock
Major Bleeding
Heart Attack and Angina
Stroke
Soft Tissue Injury
Facial Injury
Burns (1st, 2nd and 3rd degree)
Abdominal & Chest injury
Bone & Joint Injury
Head & Spinal Injury
Environmental Injury (includes hypothermia, heat exhaustion, heat cramps and heat stroke)
Seizures
Poisonings
Diabetic Emergency
Land Carries
Critical incident response management
Length of the Course: 
The length of the Standard first aid course is 16 hours.
Cost:
The cost of the course is 130.00 dollars. The cost includes St Mark James certification fee, first aid manual and all applicable taxes.
Location and Registration:
To register for a course select the location of your choosing from the selection below or from the side bar. We have convenient, educational, affordable and entertaining standard first aid courses in your neighbourhood.