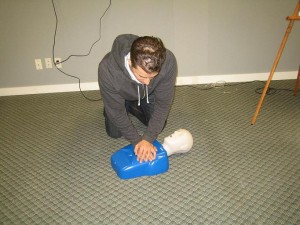 Since 2009, Vancouver First Aid has been offering prospective trainees high end training classes at the lowest possible rates. First aid, cardiopulmonary resuscitation (CPR), and automated external defibrillation (AED) classes are available throughout the week, including evenings and weeknights. Students are provided the best training in the metropolitan area of Vancouver.
More details and facility information are available on the Vancouver First Aid website.
Contact Information
Vancouver First Aid has training locations throughout the the city. The main facility is located in East Vancouver and has several amenities nearby, notably parking, restaurants, and a commercial shopping area. You can contact Vancouver First Aid using the information below.
Register for a first aid training class in Vancouver On-Line Now
Telephone Number: 778.709.9180
E-mail: [email protected]
Address: 1773 Kingsway, Vancouver, BC
Website URL: www.vancouverfirstaid.ca
The map below shows directions to the training facility in East Vancouver.

View Larger Map
Training Program Rates
Initial enrolment rates are very affordable compared to other providers, inclusive of taxes, certificates, and St Mark James registration fees. Training manuals and use of training equipment are also included so trainees don't need to worry about additional expenses. While other providers charge students with additional expenses during the training proper, this provider allows students to make full payment of the training fees before classes start.
Trainees who are unable to complete their enrolled training course are entitled to a full refund, provided a 72-hour notice is given. Should a trainee be unable to pass the training program the first time, he or she may take it again at no additional cost.
Standard First Aid and CPR level "C" – 130.00
Standard First Aid and CPR level "HCP" – 135.00
Standard Childcare First Aid and CPR level "B" – 130.00
Emergency Childcare First Aid and CPR level "B" – 75.00
Emergency First Aid and CPR level "A" – 75.00
Emergency First Aid and CPR level "C" – 80.00
Offered Classes
Classes on first aid, CPR/AED, and food safety are available as stand-alone classes for trainees who do not want to undergo the entire training course. Basic first aid covers a comprehensive list of emergency situations, with classes focusing on skill building lessons such as burn, bleeding, and fall management skills.
Scheduling
All training programs are offered throughout the week, with popular classes available on the evenings and weekends. Private classes are available to big groups, companies, or trainees with scheduling problems and cannot enrol in any of the regular class schedules.
St Mark James Certification
Trainees who are able to complete a training course are awarded a certificate, valid for three years throughout Canada. Refresher courses for near-expiry certificates are available at least at least 6 times per week at various training centres throughout the Lower Mainland.
Establishments
Training centres are located throughout Vancouver including in down-town, Surrey and East Vancouver. Training centers are equipped with high-end training mannequins and AED trainers for first aid and CPR/AED classes. Classrooms are spacious, air conditioned, and well-maintained to provide trainees with the best learning environment for training.
Staff and  Course Instructors
Vancouver First Aid programs are taught by St Mark James certified instructors. The management staff as well as the instructors are all known to be very friendly and accommodating, so don't hesitate to ask them questions.
Enrolment and Registration
Enrolment is quick and hassle-free with Vancouver First Aid. You can complete your enrolment using the application form below or send us an e-mail. Telephone calls and walk-ins at the main training center are also highly encouraged. Choose a course and enrol in a class today!
On-line application form to Vancouver First Aid below
Did You Know?
If a condition such as rapid blood loss through an injury is treated immediately and adequately, the victim may suffer from:
Kidney damage and failure
Brain damage
Gangrene (tissue death typically over extremities)
Heart failure
Death
Enrol in a training course with Vancouver First Aid to learn more about managing shock.