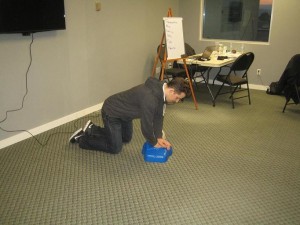 Adequate knowledge and skill regarding first aid and cardiopulmonary resuscitation (CPR) reduces the probability of personal injury and death in your own home by as much as 41 percent. Circulatory diseases are known as the number one cause of loss of life among Canadians. Cardiopulmonary resuscitation (CPR) and automated external defibrillator (AED) training can certainly increase the likelihood of survival for victims of such illnesses by as much as eight times. Thunder Bay First Aid is the main training service provider of first aid and CPR training courses in Ontario. This provider is dedicated to giving the finest quality and most inexpensive courses.
A complete list of offered classes can be found on the Thunder Bay First Aid website.
Click Here to Register for a First Aid Training Class in Thunder Bay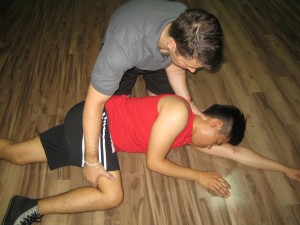 Offered Training Courses by Thunder Bay First Aid
Thunder Bay First Aid offers great deals on first aid and CPR/AED training courses. Rates are inclusive of taxes, certificates, St Mark James registration fees, manuals, and equipment. Trainees don't have to worry about additional expenses during the training period.  A list of the most popular classes can be seen below.
Standard First Aid, CPR and AED
Emergency FirstAid and CPR
Child care First Aid and CPR
Cardiopulmonary resuscitation level C and AED
Cardiopulmonary resuscitation level A and AED
Cardiopulmonary resuscitation level HCP
First aid classes are very comprehensive, focusing on developing first aid skills such as bandaging, hot and cold therapy, and safety precautions.
St Mark James Certification
Trainees who are able to complete a training course are given a certificate for first aid, CPR, and AED training, valid for three years throughout Canada. Refresher courses are offered to trainees with expiring training certificates. Classes for refresher courses are held twice a week with notably less coursework than the regular training courses.
Instructors and Facilities
All courses are taught by St Mark James certified instructors in classrooms that are equipped with the latest first aid and CPR/AED training equipment. Trainees who are unable to complete their course are entitled to a full refund of the enrolment fee, provided a 72-hour notice is given. Trainees are sure to get the best training possible with Thunder Bay First Aid.\
Did You Know?
If you suspect a person is having a heart attack, do the following:
Sit victim down, leaning back slightly
Call your local emergency number
If the victim is not allergic, give 300mg of aspirin to CHEW SLOWLY or any prescribed medication for angina/chest pain
Monitor and record pulse and respiratory rate
Enrol in a training course today and you can save the life of loved one, stranger, or your own!
Sign Up for First Aid Training in Thunder Bay, Ontario By Filling Out the Following form