Do you know the latest ILCOR and American Heart Association CPR and first aid guidelines? Would you know how to help a loved one if they were laying unconscious and not breathing? Learn how to manage these scenarios and many more by enrolling in first aid and CPR training with Toronto First Aid. This provider is the largest and most popular provider in the Toronto Metropolitan area. A complete list of offered classes can be found on the Toronto First Aid website.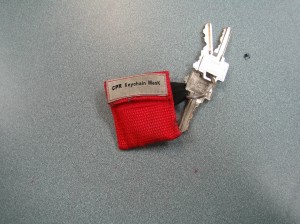 Enrolment
Prospective trainees may choose a training courses from the list on the Toronto First Aid website and use the on-line application form on the same website to enrol. Trainees may also complete their enrolment via e-mail, telephone call, or walk-in at the training centre during business hours. Use the following details to register for a course:
Website for on-line registration: www.torontofirstaidcpr.ca
Email: [email protected]
Telephone: 1-888-870-7002
Reserve a spot in a course today. On-line registration is available 24 hours a day.
Why Register with Toronto First Aid?
Here's some facts that makes Toronto First Aid the leading Ontario WSIB approved first aid and CPR provider in Toronto:
This provider has the most competitive prices for public courses and private programs. Nobody beats the prices they offer.
This provider understands that convenience matters. It has several training centres that offer courses multiple times per week.
Private classes are available for groups of almost any size. Competitive rates are available. For a quote use the contact information posted above.
Certification for courses such as standard first aid meet Ontario WSIB requirements and are valid throughout Canada for 3 years.
Registration can be completed through a number of different methods and participants can also register conveniently by telephone through the call centre
Staff are friendly, knowledgeable and patient.
What Will I Learn in a First Aid Course?
Participants that enrol in a Ontario WSIB approved standard first aid, CPR and AED course with Toronto First Aid will learn about the following topics:
Choking emergencies
Unconscious victims
Non-breathing victims
Staying safe during an emergency
Personal protective equipment
Legal implications of providing aid
Automated external defbrillators
Heart Attacks
Stroke
Cardiac Arrest
Angina
Transient Ischemic Attacks (TIA)
Allergic Reactions
Hypothermia
Hyperventilation
Hypoglycaemia
Hyperglycaemia
Seizures
Poisonings
Environmental Emergencies
Sudden Medical Emergencies
Shock
Deadly Bleeding
Wounds
Head and Neck Injuries
Spinals
Heat Exhaustion
Heat Stroke
Broken Bones
Fractures (open and closed)
Learn about these topics and more in this comprehensive two day course.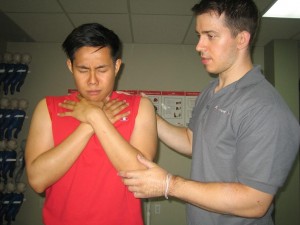 Are Private Classes Available?
Yes, to book a private course use the contact information posted above.
St Mark James Certification
Trainees who are able to complete a training course or class are entitled to receive a St Mark James certificate for first aid, CPR, and AED training, valid for three years throughout Canada. Re-certification courses are available at least three times per week for individuals with expiring awards.
High-end training facilities
Courses are held in different training centres throughout Toronto. The centres are easily accessible, within walking distance to public transportation, free parking, restaurants, and shops. Classrooms have the latest training equipment such as AED trainers and mannequins so trainees get the best training possible.
Did You Know?
If you suspect that a person is having a heart attack, remember the following signs and symptoms:
Persistent chest pain (crushing pressure on the chest)
Pain radiating to the jaw (most common in women), neck and nape, and arm/s
Difficulty breathing
Abdominal pain or discomfort
Sudden loss of consciousness
Blue/pale lips
Rapid, weak, irregular pulse
Sweaty, cool skin
Nausea and/or vomiting
Enrol in a training course with Toronto First Aid today!