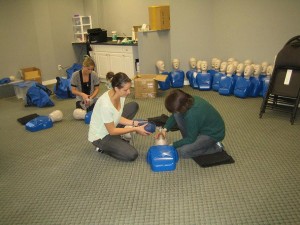 First aid and cardiopulmonary resuscitation (CPR) training cuts down the probability of injuries and fatality of injuries occurring in the home by as much as 42 percent. Circulatory diseases are known as the number one cause of death among Canadians. CPR and automated external defibrillator (AED) training can improve the overall odds of survival for victims of the cardiovascular health problems by almost six times. Hamilton First Aid is considered the top training service provider of first aid and CPR classes in Ontario. This first aid and CPR provider is devoted to providing the highest quality and most inexpensive St Mark James training courses. A number of different courses are available with this provider including pet first aid, workplace safety training, food safety courses, basic life support and advanced first aid. Click here to visit the Hamilton First Aid website for a complete list of available classes or use the contact information provided below.
Enrollment and Contact Information
Trainees can complete their enrolment with the on-line application form on the Hamilton First Aid website, or via telephone call, e-mail, or walk-ins at the training centre during business hours.
Telephone Number: 1-888-870-7002
Email: [email protected]
Website: http://www.firstaidcprhamilton.ca
What Courses Are Available?
The list below will give you an idea of the classes offered throughout the week by Hamilton First Aid.  These courses are available in private courses or in either on-line or public classes.
Ontario WSIB approved standard first aid
Ontario WSIB approved emergency first aid
Marine first aid
Babysitting training
Pet first aid
Stand-alone CPR level 'A', 'C' and 'HCP'
Oxygen Administration
Basic Life Support
Advanced Life Support
Food Handling Certification
WHMIS
TDG
H2S Awareness
Fire Safety
Confined Space Entry
Fall Hazards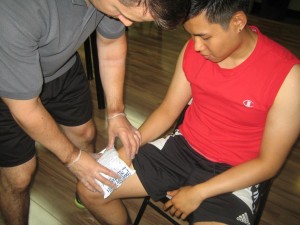 Who Need First Aid Certification in Hamilton?
A large number of individuals are required to have first aid and / or CPR certification in Hamilton, Ontario. Here's a list of some people that may need these awards:
Construction Workers
CBSA Officers
Hamilton Police Officers
Security Guards
RN Nurses
LPN Nurses
Health Care Professionals
Dentists
Dental Assistants
Fitness Workers
Fitness Instructors
Life-guards
Teachers
Caregivers
Childcare workers
Adopting parents
Coaches
Medical School Students
Nursing School Students
Pharmacists
Office Workers
Laboratory Workers
Oil and Gas Workers
Petroleum Workers
To find the course that you need use the contact information posted above.
Certification and Re-Certification
Trainees who are able to complete a training course are awarded a Ontario WSIB approved award that is valid for 3 years. It states training in first aid, CPR, and AED. Near-expiry certificates can be renewed / re-certed through refresher courses at Hamilton First Aid, offered at least twice a week.
Instructors and Training Centres
All classes are overseen by St Mark James and taught by certified instructors. Training classrooms are well-maintained and spacious, equipped with the latest AED trainers and mannequins for first aid, CPR, and AED training.
Did You Know?
If you suspect a person is in shock, watch out for:
Pale skin
Cold, clammy skin
Fast, shallow breaths
Fast, weak pulse
Drowsiness
Fatigue
Loss of consciousness
Choose a course and head over to Hamilton First Aid today!