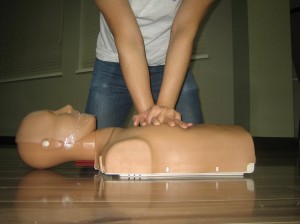 The largest, lowest priced and highest volume provider of safety, food handling, first aid and CPR courses in the Edmonton area is Edmonton First Aid. This provider has been offering courses since 2008 with a commitment to honest business practices and interactive classes. Popular classes include standard, emergency and childcare first aid. All first aid classes are comprehensive, cover a wide range of topics, and include CPR and automated external defibrillator training. Alberta Occupational Health and Safety (OH&S) standard first aid training is one of the most popular courses provider. Re-certification classes are also available for participants that want to renew expiring awards. The American Heart Association states that you are most likely to use CPR and first aid techniques on a loved one or friend. Be prepared to save the life of a loved one and get certified for the workplace by enrolling in workplace approved first aid training in Edmonton, Alberta.
Click Here to Register for a First Aid Training Class in Edmonton Now
About Edmonton First Aid
Enrolment
A complete list of available classes for enrolment can be seen on the Edmonton First Aid website. 
Trainees can complete their enrolment through the on-line application form on the website or via e-mail. Edmonton First Aid's very accommodating staff also encourages trainees to give a telephone call or walk-in at the training centers to enrol. You may use the following contact information to register for a course or for any inquiries:
Telephone: 1-888-870-7002
Email: [email protected]
Website: www.firstaidcpredmonton.ca
Training Address: 7915 – 104 Street, Edmonton, Alberta
The training centre is located two blocks south of famous Whyte Avenue and nearby the University and Hospital.

View Larger Map
Free parking and nearby access to public transit are available.
Available First Aid and CPR Courses
CPR/AED
The 2010 Basic Life Support (BLS) guidelines by the American Heart Association (AHA) are used as the focus of the CPR/AED training courses. Learn effective rescue techniques for unconscious victims, obstructed airways, and other breathing emergencies. Three levels of CPR are available and are divided according to the age of the casualty.
CPR level "A" focuses on CPR techniques for adult victims and typically requires four hours to complete.
CPR level "C" teaches rescue techniques for victims of all ages and typically takes 5 hours to complete.
The most comprehensive level of CPR training is CPR level "HCP" which teaches CPR level "C" techniques for health care providers.
Basic Life Support is a 4 hour course that teaches basic CPR and AED rescue techniques. This course is popular among health care providers.
Advanced Cardiac Life Support is an advanced CPR and AED rescue course that requires two days to complete.
Pediatric Advanced Life Support is an advanced pediatric CPR and AED rescue course that requires two days to complete.
To register for a course use the contact information provided above.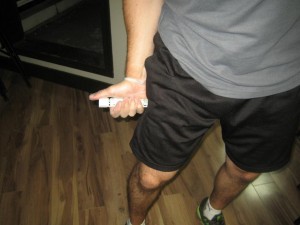 Basic and Advanced First Aid
Three major types of first aid courses are available for participants in Alberta. The most popular OH&S approved first aid course is standard first aid. This course teaches a variety of topics in regards to managing and recognizing emergencies that involve:
Seizures
Diabetic emergencies
Allergic Reactions
Hyperventilation
Deadly Internal Bleeding
Deadly External Bleeding
Abrasion
Contusions
Amputations
Open Fractures
Closed Fractures
Head Injuries
Spinal Injuries
Concussions
Heart Attacks
Angina
Stroke
These and many more topics are covered in a standard first aid course. Other popular courses include standard childcare first aid, which is designed for daycare workers, and one-day emergency first aid.
Private classes
Trainees who have scheduling problems can enrol in private classes. Big groups or companies usually take private classes for separate training schedules.
Rates
Training courses are offered at the lowest rates in the Edmonton area. Initial enrolment fees are inclusive of taxes, certificates, OH&S workplace registration fees, training manuals, and equipment used during the entirety of the training period. Full refunds are also given to trainees who drop out and give a 72-hour notice beforehand. You can't find another training service provider that offers better rates than Edmonton First Aid. Check out some of the course rates below:
Standard First Aid, CPR and AED – 132.99
Emergency First Aid, CPR and AED – 89.99
Standard Childcare First Aid, CPR and AED – 134.99
Visit the website to find more course information or to register.
Occupational  Certification
Trainees who are able pass and complete their course are given a certificate for first aid, CPR, and AED training, valid for three years throughout Canada. Recertification of expiring certificates can be completed through refresher courses, offered four times a week with this St Mark James provider. Refresher courses have a lighter course load than regular courses.
Start on your training today!
Anaphylactic Shock
Anaphylaxis or anaphylactic shock is a major part in St Mark James first aid course syllabi. Usually caused by stimuli setting off an allergic response, anaphylaxis causes constriction of the airways, preventing adequate ventilation of the lungs. The reaction usually happens when a substance enters the body, either touches the skin or even inhaled. Signs and symptoms are not limited to itchy, flushed skin, raised skin (hives), sneezing, running nose, watery eyes, tightening of the chest, coughing, nausea, vomiting, irregular pulse, swelling of lips and throat, and many more. Anaphylaxis can be fatal if not treated with a shot of epinephrine so enrol in a first aid training course today!
Register for a First Aid Training Class in Edmonton, Alberta Here