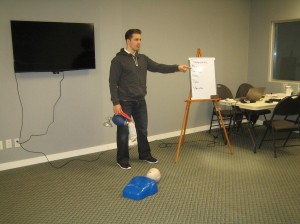 Standard, emergency, childcare and babysitting first aid programs are all available with Calgary First Aid. This provider is the leading first aid and CPR training provider in the region due to its low prices, great teachers and volume of courses. Safety programs, which include H2S, fall protection, WHMIS and fire safety training, are offered in classroom settings and in on-line training programs. The most popular program offered with this multi-location provider is standard first aid. This a two-day basic training program that includes CPR and AED certification and training. Certification provided through this large and low priced provider meet Alberta workplace requirements and are valid for 3 years. Contact information for registration for first aid training classes in Calgary is available below.
A complete list of full training courses, stand-alone classes, private classes, and refresher courses can be found on the Calgary First Aid website.
Calgary First Aid Contact Information
Quick, convenient and easy registration has made this provider one of the most popular in Calgary. Registration can be completed using various different methods including 24-7 on-line registration. Customer service representatives can help with registration via telephone as well. Use the details posted below to register for a first aid training program in Calgary.
Register for a first aid training class in Calgary On-Line Now
Main Training Facility Address: 1615 10 Ave SW Calgary, AB T3C 0J5
Telephone Number: 587.774.5317
Website: www.firstaidcalgary.ca
Email Address: [email protected]
We have also included a map of the training location below. The main training branch is located just outside down-town Calgary, with great access to public transit (a C-Train station directly across the street) and free parking. Check out the map below for more information.

View Larger Map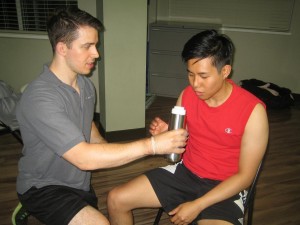 Certification Programs
Available CPR Courses
Calgary First Aid offers trainees either combined first aid and CPR courses or stand-alone CPR classes. There are three CPR training levels, lasting, 4, 5, and 6, hours long. All levels are inclusive of automated external defibrillator training. Awards are valid for 3 years upon successful completion of the program. CPR guidelines are provided through the American Heart Association and the International Liaison Committee on Resuscitation (ILCOR). Participants will learn the latest and most effective cardiopulmonary resuscitation guidelines.
Available First Aid and CPR Classes
Advanced and basic first aid classes cover different emergency situations, such as choking, bleeding, and fall injuries as well as the CPR covered in the courses mentioned above. Skill training is an important part of the course program, with actual or return demonstrations done on the latest mannequins and equipment for first aid. Participants in a OH&S approved standard first aid course will also learn to effectively recognize and manage the following situations:
Seizures
Burns
Anaphylaxis (allergic reactions)
Wounds
Broken Bones
Fractures (open and closed)
Concussions
Head Injuries
Spinal Injuries
Internal Bleeding
Pneumothorax
Frost Bite
Frost Nip
Hypothermia
Heat Stroke
Heat Exhaustion
Diabetic Emergencies
These emergencies and many more are covered with hands on training in a standard first aid course offered with Calgary First Aid.
Available Re-Certification Classes
Participants that have current awards in standard, emergency, childcare or CPR level "C" or "HCP" can attend shortened and cheaper courses known as re-certifications. Awards provided through these re-certification courses meet OH&S regulations. Ensure that you meet all required prerequisites prior to registering for these courses.
Enrolment rates
All rates are inclusive of taxes, certificates, and OH&S approved registration fees, with training manuals and equipment part of the enrolment package. The prices below are flat rates for the most popular programs:
Standard First Aid and CPR level "C" or "HCP"- 127.99
Emergency Childcare First Aid and CPR level "B" – 89.99
Standard Childcare First Aid and CPR level "B" – 118.99
Emergency First Aid and CPR level "A" or "C" – 89.99
Trainees who drop out of their training course are given a full refund of the enrolment fee, provided a 72-hour notice is given.
Affiliation with St Mark James
All courses are taught by St Mark James certified instructors and are overseen by St Mark James. Trainees who are able to complete the course are awarded a St Mark James training certificate, valid for three years throughout Canada. Near-expiry certificates can be recertified through Calgary First Aid refresher courses, offered 3 times per week at both training facilities.
Private Training
Customers looking for private training programs anywhere in Alberta can register for training with Calgary First Aid. Workplace approved instructors can training employees at your training facility or you can book a course at the training centre.
Calgary First Aid is dedicated to providing trainees with the best learning experience possible. Choose a course you would like to enrol in and head over to Calgary First Aid today!
Enrol in a training course with Calgary First Aid below
Did You Know?
Emergency supplies
With more and more calamities happening all over the world, it is important to have these emergency items on hand. Be sure you always have a small bag with a first aid kit, canned goods, bottled water, and these supplies under your bed or in an easy to reach place.
Emergency contact numbers
Medical consent forms
Medical history forms
Small, waterproof flash-lights
Extra batteries
Candles and matches
Sunscreen
Blanket
Enrol in a training course today!