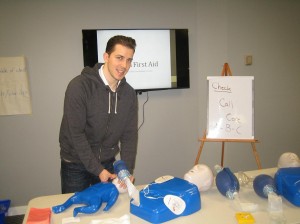 The best WorkSafe BC and workplace approved provider in Surrey, British Columbia is Vancouver First Aid. Vancouver First Aid stands out as the largest provider of occupational first aid level 1 (OFA level 1), standard, emergency and childcare first aid programs. With training centres located in the Newton and Whalley business districts participants can select courses and dates from a large selection.  Private courses and re-certifications are also available. CPR and first aid techniques are provided by the American Heart Association and the International Liaison Committee on Resuscitation (ILCOR) to ensure you receive the latest standards in CPR. All training programs offered by Vancouver First Aid in Surrey are able to meet the work and school requirements. Learn to manage a wide range of emergency scenarios and get certification for the workplace by enrolling in a first aid course in Surrey today.
A complete list of offered classes and schedules can be found on the Surrey First Aid website.
Vancouver First Aid Contact Information
Vancouver First Aid in Surrey has several training locations throughout the area. Enrolment is quick and hassle-free through the on-line application form below, or via e-mail or telephone call. Walk-ins at the training center are also highly encouraged. You may contact Vancouver First Aid using the information below for questions regarding classes and schedules.
Address: 7238 137 St Surrey, BC V3W 1A4
Email: [email protected]
Telephone Number: 604.785.7467
Website Address: www.vancouverfirstaid.ca/surrey/
Register for a first aid training class in Surrey On-Line Now
Exact details about the location of the main training center can be seen on the map below. The main WorkSafe BC and workplace approved first aid training facility in Surrey is found in the Newton area, with an auxiliary location in Whalley. The facilitiy in Newton is in the heart of the business district with ample parking, great access to public transit, and plenty of restaurants and shops nearby. Check out the Google map below for more information and directions.

View Larger Map
What Will I Learn in a First Aid Course?
Here's some of the topics participants will learn about when enrolled in a first aid course:
When and how to contact 9-1-1
How to stay safe using barrier devices and personal protective equipment
How to manage fully and partially obstructed airways
How to provide CPR
When and how to use an AED
Legal implications of first aid and CPR
5 Rights of Medication
Broken Bones
Fractures
Dislocations
Burns
Heart Attacks
Angina
Stroke
Anaphylaxis
Asthma
Diabetic Emergencies
Seizures
Poisonings
Infections
Embedded Objects
Wounds
Head Injuries
Spinals
These topics and many more are covered in a two day standard first aid, CPR and AED course.
The video below will give you a head start on your training in seizure management.
Why Should I Enrol in a Course With This Surrey Provider?
You are not going to find a cheaper provider in Surrey. Check out the price list provided below
No other provider will offer more training courses and a larger variety of programs
They are the most experienced and largest provider in the Lower Mainland
Instructors are friendly, knowledgeable and professional
Classrooms are large, new, clean and well-maintained with training centres located in city business centres with lots of free parking
Certification provided by this provider meet workplace and academic purposes for 3 years
They have the highest customer satisfaction ratings. Check out the Google reviews.
Competitive course prices
The courses provided by this provider in Surrey are offered at the lowest prices. Taxes, certificates, and WorkSafe BC registration fees are included in the price.
Standard First Aid, CPR and AED – 134.99
Childcare First Aid, CPR and AED – 79.99
Emergency First Aid, CPR and AED – 79.99
Occupational First Aid Level 1 (OFA level 1) – 79.99
Standard Workplace Emergency First Aid – 164.99
Manuals and training equipment are also included in the fees above so trainees don't have to worry about additional expenses. Trainees who are not able to complete their enrolled course are entitled to a full refund, provided a 72-hour notice before dropping out is given.
Did You Know?
Prognosis on hypovolemic shock
If blood loss and the resulting hypovolemic shock is treated with adequate first aid and medical management, the prognosis of the victim is good. However, outcomes vary depending on the injury sustained as well. These factors all affect the outcome of a victim of hypovolemic shock.
Amount of blood/fluid loss
Rate of blood/fluid loss
Causse of injury – intrabdominal trauma, penetrating wound
Comorbidities
Medication
Enrol in a training course today!