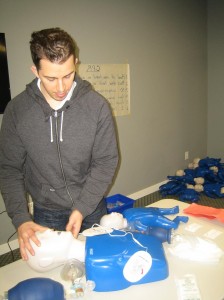 Los Angeles CPR is a training provider in the city of Los Angeles in California. It is one of the best providers you will find in the state because of quality training available at cheap rates. When it comes to quality and rates, there is no other provider in the city that can compare. There is a large selection of CPR training classes available at Los Angeles CPR, with three of them with re-certification available. A total of three Basic Life Support classes are offered, and two Advanced Life Support classes.
Do you need to get certified?
The most popular reason trainees choose a training program with Los Angeles CPR is the ease at which we award training certificates. As long as the student has complete attendance and passes the post-test, he or she is awarded a CPR training certificate that is valid for two years. As the certificate approaches expiry, it can be renewed through a re-certification class.
Trainees typically need certification because of work or school requirements, especially if the trainee works in a high-risk job such as healthcare.
How do I get certified?
Basic Life Support training involves teaching trainees how to give basic CPR to an unresponsive victim experiencing cardiac arrest (CA). BLS is a short training course that runs from 4 to 4.5 hours. It focuses on the basics – skills in chest compression, rescue breaths, and defibrillation, and the BLS guidelines from the American Heart Association.
Basic CPR training – This program is for the general public and is four hours long. It teaches students how to give one-person rescue, first aid, and defibrillation to a victim of CA. This an optional certification class where trainees don't have to take the certification exam (a skills test at the end of the program) and get certified.
Basic CPR training (C) – This program is for HCPs – healthcare providers and is four and a half hours long. It teaches the same topics as the basic CPR training course but tailors the lessons for HCPs.
Basic Life Support for HCPs – This program runs for four and a half hours as well, and teaches both one and two-person rescue, on top of first aid and defibrillation training. The 2010 BLS guidelines are also included in this program.  Re-certification is available for this course, runs for four hours long.
Advanced Life Support courses are only for HCPs. Trainees are required to have Basic Life Support training to qualify for an ALS course. ALS training covers medical support given to a victim once he or she has been stabilized by BLS. Medical support covers a lot of ground – from diagnostics to medication.
Adult and pediatric pharmacology is a very important part of ALS training, since cardiac arrest that occurs in a clinical setting is treated with compressions, rescue breaths, and medication. The use of equipment like oxygen support devices is also included in the ALS programs.
Advanced Cardiac Life Support (ACLS) – This runs for 16 hours (2 days) and teaches the management of an adult victim.
Pediatric Advanced Life Support (PALS) – This runs for 14 hours (2 days) and teaches the management of pediatric victims.