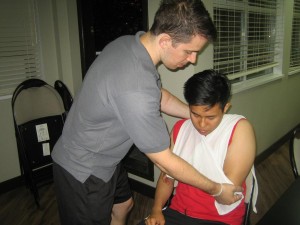 Located in Osborne, just south of down-town Winnipeg, this Manitoba approved workplace first aid and CPR provider has been offering courses since early 2008. It is committed to offering the lowest prices, the best customer service, interactive classes and the highest volume of courses to help fit your schedule. Learn to save a life in interactive, fun and cutting edge first aid and CPR courses as you get certified with emergency, childcare or standard first aid awards. Stand-alone CPR classes and re-certifications are also available. Become a part of the chain of survival as you learn to save a life by enrolling in Manitoba workplace approved first aid classes in Winnipeg with Winnipeg First Aid.
For a complete list of first aid, CPR and AED classes and schedules, click here.
Click Here to Register for a First Aid Training Class On-Line Now
Winnipeg First Aid Contact Information
You can contact Winnipeg First Aid using the contact information below.
Address: 222 Osborne st. Unit 20, Winnipeg, Manitoba
Phone: 204-272-8720
Email: [email protected]
Website: http://firstaidwinnipeg.ca
The main Winnipeg First Aid training center is located in the Osborne district, close to down town Winnipeg. The map below will show you the location of the main training center.
Training Courses and rates
Winnipeg First Aid offers the largest selection of training courses in the area. Training course rates are the cheapest in Winnipeg, and are inclusive of taxes, certificates, St Mark James registration fees, training manuals, and the use of training equipment. Trainees who drop out of their training course are entitled to full refunds of the enrolment fee, provided a 72-hour notice is given.
Manitoba workplace approved standard first aid (includes CPR and AED) – 114.99
Emergency first aid (includes CPR and AED) – 78.99
Manitoba workplace approved standard childcare first aid (includes CPR and AED) – 128.99
What Will I Learn In Standard First Aid Courses?
Participants that enrol in Manitoba workplace approved standard first aid and CPR training programs will learn to manage and recognize emergencies that involve the following:
Heat Stroke
Hypothermia
Hyperventilation
Diabetic Emergencies
Seizures
Burns
Poisons
Spinal Injuries
Head Injuries
Broken Bones
Bleeding
Allergic Reactions
Heart Attack
Stroke
These emergencies and many more will be covered with "hands on" training in a standard first aid class.
Manitoba Workplace Approved Certification 
Trainees who are able complete a full training course are given a St Mark James training certificate for first aid, CPR, and AED, valid for three years throughout Canada. Participants that need to refresh expiring awards can do so via re-certification courses. Please ensure you meet prerequisites prior to registering.
Extra / Private Classes
Private classes are offered to trainees who have problems in scheduling and cannot enrol in any of Winnipeg First Aid's numerous schedules. These separate classes are usually taken by big groups or companies.
Facilities and Instructors
Winnipeg First Aid offers a number of training facilities throughout Winnipeg. The training centers easily accessible by public and private transportation, with amenities such as free parking, restaurants, and shops available within walking distance. The centers are equipped with the latest AED trainers and mannequins for the different CPR/AED and first aid classes.
All courses are taught by Manitoba workplace approved and certified instructors so you're sure to get the best training possible.
Get a head start on your training today!
Internal bleeding
Internal bleeding is one of the most difficult first aid emergencies for rescuers to recognize. A person can bleed to death without any blood being seen outside of the body. Internal bleeding can be caused by injury to internal organs or closed fractures. Signs and symptoms of internal bleeding include blood coming from inside the ear, nose, or around the eye – all signs of possible brain hemorrhage. Blood can be coughed up or vomited that looks bright red and frothy or even dark in colour (coffee coloured), and can also be seen in the stool and urine.
For more information on internal bleeding, enrol in a first aid class with Winnipeg First Aid today!
On-line application form for First Aid Training Class in Winnipeg