Red Deer First Aid the leading provider of first aid, cardiopulmonary resuscitation (CPR), and automated external defibrillation (AED) classes in Red Deer. Participants may enrol for a variety of courses including food safety, on-line safety classes, WHMIS, H2S Alive, stand-alone CPR and AED, re-certifications, babysitting, standard, childcare and emergency first aid. Participants that complete first aid and CPR programs with this provider receive Alberta OH&S approved certification that is valid throughout the country for 3 years. Participants will learn life saving techniques and the highest standards in CPR rescues as provided by the American Heart Association and the International Liaison Committee on Resuscitation (ILCOR). A complete list of offered classes can be found on the Red Deer First Aid website here. Schedules and on-line application forms can also be found on the Red Deer First Aid homepage.  Learn to manage emergencies at home or at the workplace by enrolling in a first aid course with Red Deer First Aid today.
Check out details about Red Deer First Aid below!
To register for a first aid training class in Red Deer, Click Here.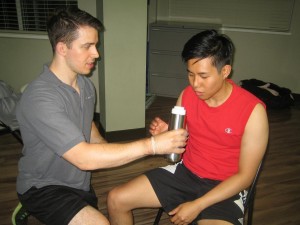 Registration and enrolment
To register for a course with this provider you may contact them using the following information:
Email Address: [email protected]
Telephone (Toll Free): 1-888-870-7002
Website: www.firstaidreddeer.ca
Customer service representatives are able to help with inquiries and registration from 7am to 7pm.
Course rates
Training courses are offered at very low rates, the lowest in the area. Other training service providers can't compete with Red Deer First Aid course rates. Initial enrolment fees are inclusive of taxes, certificates, St Mark James registration fees, training manuals, and use of training equipment.
Trainees who drop out of their course are entitled to a full refund, provided a 72-hour notice is given.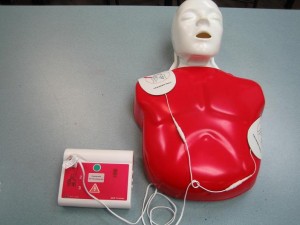 Training courses
Standard first aid training classes are very popular among Red Deer First Aid trainees because of the variety of skills learned. Trainees learn to manage different injuries or situations such as bleeding, burn, or choking emergencies.
The following is a break down of the major topics taught in a two-day standard first aid OH&S approved course:
Breathing Emergencies
Heart Attacks
Angina
Stroke
Transient Ischemic Attacks
Broken Bones
Fractures
Concussions
Head Injuries
Neck Injuries
Spinals
Poisoning
Abrasions
Cuts
Scrapes
Amputations
Embedded Objects
Hypothermia
Frost Bite
Heat Stroke
Heat Exhaustion
Personal Protective Equipment
5 rights of Medication
EMS
Effective use of bystanders
Recovery Position
Unconscious Non-breathing victims
Choking management
Trainees who are able to complete the course are awarded a St Mark James training certificate, valid for three years throughout Canada.
Private Training Classes
Private classes are offered to big groups or companies who request separate training classes and schedules. Competitive rates are available for groups / businesses looking for certification for large groups.
Re-Certification Classes
Refresher courses are offered multiple times per week for near-expiry certificates. Re-certifications are available for standard first aid, standard childcare first aid, CPR level "C" and CPR level "HCP". Not all courses are available for re-certification.
Typical Participants
A variety of individuals take first aid and CPR courses. Here's a basic list of the likely participants that attend these courses:
Students
Doctors
Nurses
Lifeguards
Fire fighters
Paramedics
Physiotherapists
Chiropractors
Massage Therapists
Security Guards
Police Officers
Nursing Students
Medical Students
Babysitters
Childcare workers
Government Employees
Fitness Workers
Managers
Oil and Gas Workers
This is a brief list of typical participants.
Facilities and instructors
All courses are overseen by St Mark James certified instructors, taught in high-end facilities with the latest training equipment. The training centers are located throughout Red Deer, with easy access to public transportation. Free parking and restaurants are also available near the training centers.
Did You Know?
Choking infant
If the infant is visibly distressed and is unable to cry, cough, or breath, do the following:
Lay infant face down on your forearm. Support the neck and head.
Give five quick and firm back blows with the heel of your hand.
Check the mouth for any obstructions. DO NOT fingersweep the mouth.
OR
Lay infant down on your forearm, face up.
Use two fingers on the breastbone (sternum) just below the nipple line.
Give up to five chest thrusts.
Check the mouth.
Note: Bring the infant to the hospital or call an ambulance if object doesn't dislodge after three cycles of back blows and chest thrusts.
Enrol in a training course with Red Deer First Aid today!
Registration Form for First Aid Training Classes in Red Deer, Alberta