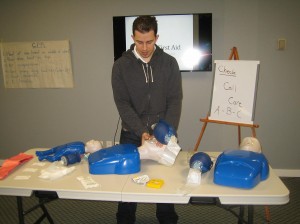 Do you need Saskatchewan workplace approved first aid and CPR certification and training in Saskatoon? The lowest priced and most popular provider in the city is Saskatoon First Aid. Available courses include two day standard first aid and one day emergency first aid. Both courses include CPR and AED training. Customers can also register for on-line safety programs, food safety certification and purchase services such as consulting. This provider also sells first aid kits, does re-stockings and provides first aid attendants for events and worksites. Learn the latest rescue skills, be prepared for any emergency or hire a first aid attendant using the contact information provided below.
The Saskatoon First Aid website has a complete list of offered courses, services and frequently asked questions. This provider can be contacted using the following:
Telephone operators are available everyday from 8 am to 6 pm to help with any questions or concerns.
Who Needs First Aid Training in Saskatoon?
This provider offers training to individuals from all walks of life including:
New parents
Teachers
Saskatoon Police Officers
Fire-fighters
Health Care Professionals (Doctors, Nurses, Dentists, Pharmacists, etc.)
Construction Workers
Oil and Gas Worker
Miners
Security Guards
Coaches
Fitness Workers / Trainers
City Workers
Office Workers
CBSA Officers
Life-guards
Paramedics
The list of professions above is only a sample of the individuals that attend first aid training with this provider.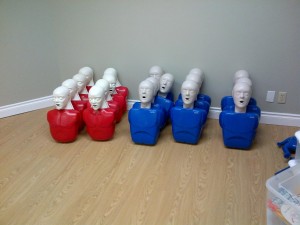 What Courses Are Available?
This provider offers a range of basic and advanced first aid and / or CPR courses at the training centre. Here are some of the most popular courses available:
Standard first aid and CPR
Emergency first aid and CPR
Childcare first aid and CPR
Babysitting Training
Basic Life Support
Advanced Life Support
CPR Only Courses include
CPR level "A"
CPR level "C"
CPR level "HCP"
Other Workplace Required Training Programs are:
H2S Alive training
On-Line WHMIS training
On-Line TDG training
Food Safety Certification
Get certified today and enrol with this popular Saskatoon provider.
http://www.youtube.com/watch?v=lehmZgaFMH8
Lowest course rates
Course rates are easily the lowest in the Saskatoon area. No other training service provider offers classes at rates inclusive of taxes, certificates, St Mark James registration fees, and training manuals and equipment. Full refunds are also given to trainees who do not finish the full course, provided a 72-hour notice is given before dropping out.
Flexible scheduling
Trainees with scheduling problems and cannot enrol in any of the regular class schedules can opt to enrol in a private class, usually taken by big groups or companies. Private classes and refresher courses come at different rates than the regular training courses.
Did You Know?
Bruises: when to see a doctor
Bruises are usually harmless especially if they are small in size and not caused by a major accident or impact to the body. However, head to the nearest emergency room if you start experiencing these signs and symptoms:
Large and painful bruises, especially around the abdomen and back
After the injury, you begin to bruise easily
Abnormal bleeding from the nose, gums, eyes, stool, or urine
Persistent headache
Feeling of thirst and dry skin/poor skin turgor or elasticity
These are signs and symptoms of heavy internal bleeding, blood-clotting problems, or even a blood-related illness.
Enrol in the latest St Mark James certificate programs with Saskatoon First Aid today!