Fact Checked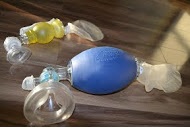 When learning first aid, you will come across a number of first aid acronyms whose meaning you must know so that you are able to avail proper care to the patient in need. Listed below are some of the most common acronyms. While you may not learn all the names at a go, continuous practice ensures that these acronyms are at your finger tips. Some are obvious while others are not and require you to rack up your brain to recall what you were trained. Have a look:
1)      AED: Automated external defibrillator
This is a gadget whose main purpose is to send electric shock waves to the heart in a bid to restore the natural rhythm of the heart beat. It is often used alongside provision of CPR, and if carried out correctly, improves the survival rate of victims whose hearts have stopped beating and/or breathing has stopped.
2)      ALS: Advanced life support
Another common of the first aid acronyms, this refers to a number of procedures that are followed as an extension of Basic Life Support.
3)      AVPU: Alert / Voice / Pain / Unresponsive
4)      BLS: Basic life support
5)      BM: Boehringer Mannheim – used when checking for blood sugar levels
6)      BP: Blood pressure
7)      CFR: Community first responder
8)      CPR: Cardiopulmonary Resuscitation
9)      DNR: Do not resuscitate
10)  DVT: Deep vein thrombosis
11)  ECP: Emergency care practitioner
12)  EMT: Emergency medical technician
13)  FAST: Face / Arms / Speech / Time
14)  GCS: Glasgow Coma Scale
This is one of the first aid acronyms that plays a critical role in individuals who have slipped into a coma, and is used to provide an objective way of determining an individual's level of consciousness following trauma to the brain.
15)  GTN: Glyceryl trinitrate
This is a compound used to treat heart failure in patients, and is one of the first aid acronyms that could cause confusion since quite a number of people associate this with nitroglycerin used to manufacture explosions.
16)  KO: Knocked out
17)  LoC: Loss of Consciousness / Level of consciousness
18)  MI: Myocardial infarction (heart attack)
You may have come across this condition when learning CPR as it is very common in the list of first aid acronyms. This basically refers to a heart attack, a condition which is triggered when the flow of blood to any part of the heart is restricted over a long time, causing the muscle of the heart to die at that specific site.
19)  MIU: Minor injuries unit
Just as the name describes, this is where patients are taken to when their injuries are not too severe as opposed to using the Accident and Emergency section in the hospital.