Fact Checked
Rain can make driving dangerous. Heavy rains can make the environment suddenly dark, making it difficult to see. It can also make the road slippery, making it difficult to manoeuvre and stop. These are some of the reasons why many road crashes occur after and during rain. Knowing how to drive safely while raining is crucial in preventing tragic car accidents.
Disclaimer: the material posted on this page on safe driving in the rain is for learning purposes only. Ensure that you follow the rules of the road and be prepared for any emergency by taking St Mark James first aid and CPR training classes.
Here are some safety tips for driving in the rain.
Consider the road most slippery just after the rain starts or the initial fall of rain.
Expect asphalted roads to be more slippery than concrete roads.
Avoid sudden braking, sudden acceleration and sudden manoeuvres of the steering wheels.
If possible, wipe your mirrors regularly to clear possible fog formation and to enhance visibility.
If the rain causes the environment to be dark turn on your headlights and proceed slowly. If it is too dark for you to safely drive or if you are not familiar with the road, pull over, turn your hazard lights on, and park your car in a safe place. Wait for the rain to stop or for road visibility to improve before proceeding.
Minimize the possibility of an accident due to hydroplaning. Make sure you have good tires and drive slowly on wet roads. Hydroplaning occurs when you drive a car with worn tires on wet roads at a speed of 35 mph. At such speed and tire condition, the wheels are virtually running on a film of water and do not have a firm grip on the road surface. It is very difficult or impossible to steer on such conditions when the car has hydroplaned.
If you start to hydroplane while driving, you can reduce possible crashes or problems by: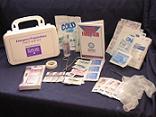 Decelerating slowly and keeping the steering wheel steady until you regain control.
Not suddenly jamming on the brakes as can only cause the car to skid through the road.
Do not attempt to control the wheel or "bite through" the surface of water by turning the steering wheel from side to side.
Remember that heavy rains can cause flooding in low-lying areas. Be careful to avoid driving over flooded roads as water can cause the engine to short circuit. As much as possible, try to find alternate routes to your destination to avoid flooded areas. Know flood prone areas in the places that you drive.
Always stay tuned with your local weather bureau. If there is an oncoming bad weather, make sure your car is in good condition.
Have a first aid kit in your car, in case of an accident.
Knowing how to drive safely during bad weather conditions can greatly help minimize the number car crashes and ultimately ensure your safety. Road accidents are among the leading causes of death and long-term injuries so it is essential for every motorist to know these special driving techniques. Enrol in first aid and CPR training to learn the skills to manage any emergency including a vehicle accident.
Related Video