Fact Checked
Around 140,000 people die every year in situations that could have been prevented with prompt first aid. Unfortunately, there are very few individuals who are trained at first aid. Fewer than one in 10 persons have completed a first aid course. Considering the number of fatalities, it is recommended that school-age children be taught life-saving skills at school.
Motivated to Learn
According to a survey conducted by the British Heart Foundation, around 7 in 10 school-age children wanted to learn first aid and be able to resuscitate someone. Similarly, more than 75% of parents and teachers also believe that first aid should be part of school curriculum. Giving young persons an opportunity to learn basic first aid skills can help prevent serious complications and even deaths due to first aid situations. Immediate first aid can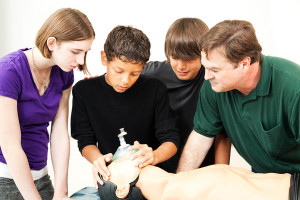 significantly improve the outcome of victims of injuries. It can make the difference between life and death.
Course for Youth
St Mark James offers age-appropriate first aid courses for school-age children. For example, elementary schoolchildren can learn basic first aid skills such as how to call 911 or local emergency services. Secondary school students may be taught cardiopulmonary resuscitation (CPR) and other basic life support skills. Aside from gaining first aid skills, these training courses also help the children gain confidence in handling emergency situations as well as a sense of camaraderie even at a young early age.
Start Early
Educators, paramedics, doctors and child development experts agree that teaching first aid should start while children are still young. This way they are introduced to life saving skills and are made aware of how to properly act in case of an accident. Moreover, children who know first aid tend to be more cautious and be more attentive to safety.
First aid courses offered for school-age children (enrol here) are focused on injury prevention and emergency action to some common childhood accidents. The facilitators make use of instructional techniques and guides that are appropriate with the age of the participants. For example, first aid courses for very young children may include use of colouring book or dolls or mannequins for demonstration.
Apart from teaching first aid skills, these training courses hope to encourage children to take other advanced life-saving skills when they grow older. Other first aid courses offered by St Mark James include Advanced First Aid, Basic Life Support, and Water Safety and Rescue. Participants may also be encouraged to become St Mark James volunteers and take part in various humanitarian activities offered by the organization.
Course Content
Some of the basic skills learned in first aid courses for children include:
Children are taught how to evaluate their environment and how to ensure safety in the home and in the community.
In most emergency cases, one of the best things a child can do is to call for help. Young people should be taught how to call for help in an emergency.
Children are taught first aid procedures for common emergencies. They will also learn how to comfort and care for victims of different injuries, such as unconsciousness; burns; poisoning; cuts, wounds or bleeding; animal bites; choking; broken bones; and breathing problems.
Related Video