Fact Checked
Overview Of Breathing Difficulties
Millions of people suffer from asthma or allergies and have problems breathing during an attack. Also, there are millions of individuals who have breathing problems because of pollution in the air.
Breathing difficulties also affect individuals who are allergic to certain kinds of medications, nuts, shellfish and insect bites.
These individuals can suffer an allergic response known as anaphylactic shock. This response can hit within minutes of being exposed to the element causing the allergy.
During this kind of allergic response, the airways become constricted, making it hard to breathe.  The heart pumps quickly and the person's blood pressure decreases.
Anaphylactic shock can kill if an individual does not receive first aid treatment within 15 minutes.
Breathing difficulties from certain triggers might require emergency assistance.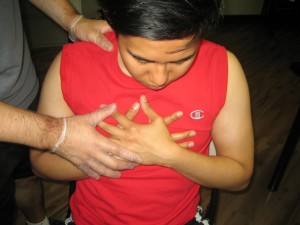 In young kids they include:
Out of breath.
Croup, a disease with a bad cough – common in young kids.
Epiglottitis, which is swelling of the tissue in the rear of the throat that seals off the windpipe.
Diphtheria, which is an extremely infectious throat virus.
Heart problems kids are born with.
In adults/older kids they include:
Serious allergic reactions.
Injury to the head, nose, face or lung.
Carbon monoxide poisoning.
Chemical burns that affect the airway.
Choking.
Asthma.
Poisoning.
Pneumonia.
Prevention Of Breathing Problems
Keep away from allergic substances that prompt asthma, if you have it.
Do not run, walk or jog on roads with lots of vehicles.
If you have a gas heater, have it tested once a year for carbon monoxide leakages.
Never leave your vehicle on in a garage that is closed.
If you smoke cigarettes, try to quit.
Keep small items a kid could choke on out of reach and do not offer them gum, particularly bubble gum, popcorn, hard candy or nuts, especially to kids beneath the age of 5 years old.
Lock up all medicines and toxic substances so small kids can't get to them.
 Related Video On Breathing Problems