Fact Checked
Overview Of Childhood Fever
A fever in a child is anything that is above the normal temperature of 98.6 degrees. For those who have children who are having a fever, this can be worrisome. A fever often indicates that there is another issue present in a child.
The Reasons for a Fever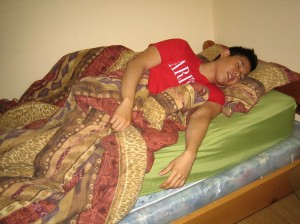 There are several infections that can be present in a child that is causing a fever. The body increase the temperature of the body in an effort to ensure that this infection does not get worse. Here are just a few of the infections that children are plagued with which could be causing a fever:
The flu
Kidney infections
Roseola
Ear infection
Measles, chickenpox and other types of childhood disease
Tonsillitis
When a child is teething, he or she may also start having a fever. In addition, getting vaccinations can also lead to a short-term fever.
When Medical Advice is Needed
When a child has a fever, it is important to contact a medical professional when:
The child is not responding, is drowsy, etc.
Is younger than three months and has a fever above 100.4 degrees
Between the age of three and six months with a fever above 102.2 degrees
Treating a Fever
In order to treat a fever in a child, you are going to ensure that he or she is drinking plenty of fluids to help lower the fever naturally in the body. You can also:
Ensure their room is cool so that their body is going to be getting colder
Wear little clothing to ensure that the body can cool down
Utilize over the counter medications for fever, but be sure that you follow the dosage instructions that your doctor has given you.
If you find that the temperature your child has is accompanied by vomiting, rashes, seizures, or trouble breathing, you need to seek immediate medical attention.
Seeking Medical Assistance
The kid is below 6 months (irrespective of prematurity).
One is incapable of managing the fever.
If you think the child might become desiccated from queasiness, diarrhea, or not taking enough water (for instance, the child has hollow eyes, dry diapers, tight skin, cannot be awakened, etc.).
The child has been to a GP but is now getting poorer or new indications or signs have started.
Take a child to an emergency hospital when any of the subsequent occur:
One has severe worries and is unable to phone the child's GP.
One believes the kid is dehydrated.
A seizure takes place.
An alteration in awareness happens.
The child's breathing is low, fast, or problematic.
Related Video On Fever In Kids